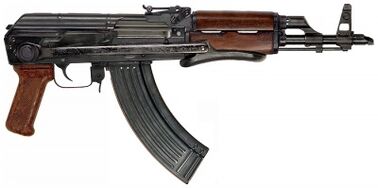 The AKMS 
is an underfolding, scaled-down variant of the AKM, which in turn, is an updated version of the AK-47.
A custom AKMS was seen in Taken.
The custom AKMS used in many movies was constructed almost from scratch by using both AKMS and Norinco Type 56 parts to create an entirely new firearm. 
The main variant of the AKM is the AKMS (S – Skladnoy (Folding)). AKS rifles are equipped with an under folding metal shoulder stock in place of the fixed wooden stock similar to that of the German MP40, for use in the restricted space in the BMP infantry combat vehicle, as well as by paratroops. There weren't very many AKSs made, although they were issued to Parachutist and armor troops in the Red army.
The metal stock of the AKMS is somewhat different from the folding stock of the previous AKS-47 model as it has a modified locking mechanism, which locks both support arms of the AKMS stock instead of just one (left arm) as in the AKS-47 folding model. It is also made of rivetted steel pressings, instead of the milled versions of most AKS-47s.