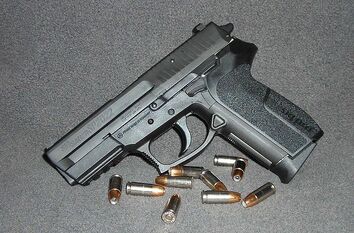 The SIG-Sauer SP2022
is a SIG Pro variant. 
It was used by Jean-Claude Pitrel in Taken 2.
Description
Edit
The SIG Pro is a series of semi-automatic pistols developed and manufactured jointly by Schweizerische Industrie Gesellschaft (SIG) and J. P. Sauer & Sohn. It was the first polymer-frame handgun from either company and one of the first pistols to feature a built-in universal accessory rail and interchangeable grips.
The SIG Pro was marketed as a lightweight and compact alternative to the "legacy" SIG-Sauer handguns in an increasingly competitive and budget-oriented law enforcement market. The pistol is the result of continued collaboration between two famous European arms makers: SIG (now Swiss Arms AG) of Neuhausen, Switzerland and Sauer & Sohn of Germany. As with other joint ventures between the two companies, these pistols are sometimes referred to as "SIG-Sauer". It was originally developed as a .40 S&W-caliber service pistol and introduced in June 1998 with the SP 2340 model, followed shortly by a version in .357 SIG (which retained the same model designation). About one year later, a 9x19mm Parabellum variant, the SP 2009, was introduced and entered production in response to demand for the type.
The Sig Pro comes standard as a double-action/single action pistol with 10 lb and 4.5 lb trigger pulls, respectively. Double-action only conversion kits are also available from SIG.
The SIG Pro is a short recoil operated, locked breech semi-automatic pistol. It uses a traditional Browning cam-operated locking system. The barrel locks into the slide via enlarged ejection port.
The frame is made from polymer, with detachable grip panels. Grip panels can be easily replaced and are available in several different sizes and shapes.
The overall design is slightly different from earlier SIG-Sauer pistols such as P220 or P226, as there is no separate disassembly lever on the frame and the slide stop lever looks quite different.
The standard SIG Pro does not have a manual safety but it does incorporate a decocking lever (lowers the hammer without striking the firing pin), trigger-bar disconnect (disconnects the trigger when the slide is out of battery), automatic firing pin lock (does not free the firing pin until the trigger is depressed) and a hammer safety intercept notch (prevents the hammer from striking the rear of the firing pin until the trigger is depressed).
SP 2340: The original pistol introduced in 1998. It has a rounded trigger guard and is chambered for .40 S&W and .357 SIG.
SP 2009: 9x19mm Parabellum version announced in 1999.
SPC 2009: A shorter version of the SP 2009 with a 3.58" barrel length and only available in 9 mm. It is equipped with the SIG accessory rail system and the trigger guard is rounded. This is the basis for the SPC 2022.
SP2009-9-BMS: A variant of the standard SP 2009 with a slide-mounted manual safety and short trigger. These were offered for a short time to the U.S. civilian market.
SP 2022: A modified version of the SP 2009/2340. It entered service with the French Police, Customs, Penitentiary administration and Gendarmerie in 2002 for a planned service life of 20 years, hence the name. 460,000 rounds have been used for testing it before adoption by a sampling of future users and modifications of the SIG Pro followed to produce the 2022. It is available in 9x19mm, .40 S&W and .357 SIG. The pistol is fitted with an integral Picatinny rail instead of the proprietary rail of the other models and the front trigger guard is shaped differently so as to allow a finger hold. It can also be equipped with a threaded barrel and detachable suppressor and the fixed open sights are dovetailed into the slide.
SPC 2022: A more compact version of the SP 2022 that is only available in 9x19mm. The SPC 2022 has a slightly shorter barrel and slide, as well as flat magazine base plates which make its grip shorter by 7 mm. It is equipped with a Picatinny rail and a finger groove trigger guard.
Ad blocker interference detected!
Wikia is a free-to-use site that makes money from advertising. We have a modified experience for viewers using ad blockers

Wikia is not accessible if you've made further modifications. Remove the custom ad blocker rule(s) and the page will load as expected.