Taken 2 is an action/thriller film directed by Olivier Megaton. It was released on October 5, 2012. It is the first sequel to Taken.
The funerals of the Albanian mobsters killed by Bryan Mills (Liam Neeson) in the prior film are held in Tropojë, Albania. At the funeral, Albanian mafia boss and freelance terrorist Murad (Rade Šerbedžija), vows vengeneance against Bryan Mills for the death of his son Marko.
Traveling to Paris with his men, Murad interrogates and tortures former intelligence agent Jean-Claude Pitrel, whose business card was found at the scene of Marko's death, but finds no information. He then bribes a corrupt police official for Pitrel's files and deduces that Pitrel's old friend Bryan Mills was responsible and is in Istanbul.
Kim (Maggie Grace) and her mother Lenore (Famke Janssen), who is currently having marital problems, surprise Bryan by joining him in Istanbul, Turkey, where he has just finished a three-day security job for a wealthy Arabian sheikh and has been payed a large amount for it. The next day, Lenore and Bryan go out for lunch while Kim hangs out by the pool. Returning back, Lenore and Bryan discuss their former marriage, and Lenore is happy that Bryan changed and became friendly, and Bryan offers his help to Lenore if she needs it.. However, as they pass the bridge, Bryan notices that they are being followed. He explains it to Lenore and gives her specific information on where to go, following a route, and then tells her to leave the car.
As soon as Lenore leaves, Bryan orders the driver out of the car and commandeers it, evading them. However, the men capture Lenore, forcing Bryan to surrender, but before he does, he calls Kim and warns her to get to safety and wait for further instructions. As Bryan gets beaten, while she watches on in horror. She is then hooded along with Bryan and dragged into a van while struggling with muffled Nos as she's being carried away. While driving in the van, Bryan follows specific sounds, counts all the turning points and counts all the time from one specific location to the another, eventually being able to figure out the distance between the location of where is he heading and the location where he and Lenore were kidnapped. However, after they arrive at the location, he is knocked out.
Meanwhile, using her father's instructions, Kim goes on the run to get to her father's room. Upon removing her flip-flops, Kim ends up getting on the window ledge and entering the room through the window. Her would-be abductors shoot another hotel guest and two security guards after entering the wrong room, but fail to find her as she hides in the closet as instructed and are forced to flee when the alarm is sounded. Kim then makes her way to the hotel's locker room and borrows her father's clothes as instructed.
Bryan wakes with his hands tied to a pole in a basement of an old house. Using a phone that he had hidden in his sock, Bryan calls Kim, instructing her to go to the American embassy and tell them what happened, but she begs for a chance to help him and Lenore. Under Bryan's guidance, she opens his suitcase, containing weapons and a map. Using a shoelace and a pencil, she creates a 2.5 km radius over the hotel, and 2.5 km radius over the market where he was kidnapped. After that, she takes a grenade, pulls a pin, counts to 3 and throws it on a parking lot, destroying a car. Bryan hears the explosion over the phone and counts, and stops at 4 when he hears the sound wave of the blast. Using the knowledge of that, Kim draws a 4.5 km radius over the hotel, which intersects with two locations on the map. Using the wind, Bryan calculates he is on the eastern point of intersection. Bryan orders Kim to take the pistol and 2 more grenades, and to head to the eastern location.
While he is tied up, the Albanian mobsters bring in a hooded and struggling Lenore. One takes a knife and makes a small cut to her throat before hooding her and hanging her upside down by chains. They tell Bryan he has to watch her bleed out and die before he dies. They also tell him that Kim will be captured and sold to "the worst brothel that exists", with a scared Lenore begging them not to with her muffled sounds. When the mobsters leave, Bryan tries to escape and calms down an increasingly panicky Lennie who breathes harder and harder before becoming unconscious. She is then rescued by him, but due to circumstances, is forced to leave her before coming back for her and call Kim to detonate two more grenades so he can determine his location. The grenade detonations enable Bryan to guide Kim close enough to see steam he sends up a chimney to mark his precise location. Kim tosses the gun down the chimney. Bryan uses it to kill the Albanians in the building, then saves Kim from her rooftop pursuer. Lenore, however, is taken away by her captors. They steal a taxi and follow the captors. Leaving Kim in the taxi, when Bryan returns to retrieve Lenore, he spots the gang taking her to a van. He shoots at the van but fails to save her. He returns to the taxi and both Kim and Bryan head to the Embassy as Kim drives the taxi. A chase and shootout with the police and captors' henchmen then take place, ending when Kim and Bryan cross a railroad track; the henchmen being killed after their vehicle is hit by a train.
Leaving Kim at the US Embassy, Bryan retraces the route to Murad's safe house he memorized from his abduction. After killing the rest of the gangsters and rescuing Lenore, he confronts Murad, who confirms Bryan's guess that his two remaining sons will seek revenge if Bryan kills him. Bryan offers to let Murad live if he gives his word to end his vendetta. When Murad nods his head, Bryan drops his gun and starts to walk away. Murad seizes it and tries to shoot Bryan, only to discover that Bryan has removed the cartridge from the pistol's chamber. His actions proved his untrustworthiness and he is impaled on a towel hook by Bryan. Bryan then picks up Lenore and leaves.
Three weeks later, the Mills family is at a diner back home on the Los Angeles coast to celebrate Kim passing her driving test. They are joined, much to Bryan's surprise, by Kim's boyfriend Jamie (Luke Grimes). Kim jokingly asks her father not to shoot him.
Reception
Edit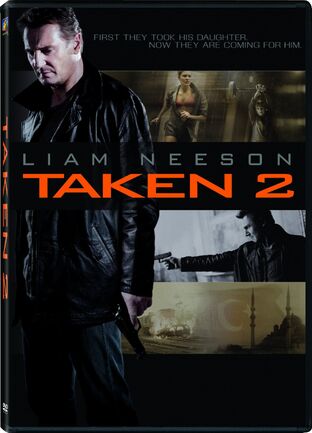 On Rotten Tomatoes the film currently has a score of 21% based on reviews from 156 critics and reports an audience rating average of 4.2 out of 10, with the reported consensus: "Taken 2 is largely bereft of the kinetic thrills—and surprises—that made the original a hit." At Metacritic, which assigns a weighted average score out of 100 to reviews from mainstream critics, the film received an average score of 45 based on 35 reviews, indicating "mixed or average reviews".
Roger Ebert, of the Chicago Sun-Times, gave the film 3 stars out of 4, writing, "Taken 2 is slick, professional action" and concluding, "The cast is uniformly capable and dead serious, and if you're buying what [co-writer and producer] Luc Besson is selling, he's not short-changing you." Kenneth Turan of the Los Angeles Times gave the film a positive review, writing, "At a beefy 6-foot-4, Liam Neeson certainly looks physically imposing, but it was the notion of casting someone who can actually act in an action hero role that was the counter-intuitive concept that made both films—Taken 2 is more a remake than a sequel—so successful." Bernard Besserglik of The Hollywood Reporter gave the film a positive review after its screening at Deauville, concluding, "There's a touch of vigilante advocacy in the movie that will displease some, with Liam Neeson as a more gentlemanly version of the Charles Bronson of the Death Wish series, but clearly there's still a market for such fantasies. Moviegoers who liked Taken and want more of the same will get precisely that."
John Anderson of The Wall Street Journal gave the film a mixed review, writing that there is a "blind adherence to formula evident in most of Taken 2. As they might say in the advertising department, it's an adrenaline-fueled thrill ride. But it could have been much more." Lisa Schwarzbaum of Entertainment Weekly gave the film a C grade, writing, "You know what happens in Taken 2, don't you? The same thing that happened four years ago in Taken, but different. (But the same.)" and that Taken 2 "is simultaneously silly, nasty, a lazy festival of stereotypes, and a cleverly made piece of merchandise—i.e., it's the devil we know." Neil Genzlinger of The New York Times gave the film a mixed review, writing that much of Taken 2 "seems like a nonstop car and foot chase, with Albanian after Albanian falling victim to Bryan's remarkable aim and hand-fighting skills. Foreigners bad, Americans good, box office busy."
Keith Phipps of The A.V. Club gave the film a C grade, writing, "What begins as a family outing, with a hint of rekindled romance between the parents, devolves into kidnapping (the word 'taken' gets thrown about liberally), torture, high-speed chases, and other misadventures probably not smiled upon by the Turkish Board of Tourism. None of it is particularly novel or exciting." Scott Bowles of USA Today gave the film 2 1/2 stars out of 4, writing, "The first half of Taken 2 is a serviceable action flick, but the second half descends into cliches" and "[a]t times, Taken 2 even steps from the shadows of the original with some terrifying imagery and an improved relationship between father and daughter. Alas, the movie can't help but descend into a pat part two, bereft of much suspense or tension." Peter Bradshaw of The Guardian gave the film 2 stars out of 5, concluding, "In the first movie, from the tailend of the Bush era, Liam was not shy about using Jack Bauerish torture techniques, wiring up evil-doers to the mains and zapping them with righteous volts. None of that now. That was a 15; this is a 12A, a bit tamer, just as ridiculous, but the premise is looking pretty tired."
Joe Neumaier of the Daily News also gave the film 2 stars out of 5, writing, "Taken 2 has a plot that could have been written by a GPS program, and contains all the technical charm that conjures up. Yet somehow, Liam Neeson growls through this just-acceptable action sequel with his dignity intact, his wallet bigger and his movie family oblivious to all that occurred in 2009's Taken." Neil Smith of Total Film also gave the film 2 stars out of 5, concluding, "'What are you going to do?' wails Maggie. 'What I do best!' growls Liam. Yet while it's fun to watch him take out the Eurotrash, we've seen him do it better." Ann Hornaday of The Washington Post gave the film 1 stars out of 4, writing, "You can't blame Liam Neeson, or the Taken producers, for trying to catch lightning in a bottle again. What you can blame them for is Taken 2, a sequel every bit as clumsy, ham-handed, outlandish and laughable as the original was sleek, tough and efficient."
Audiences polled by the market research firm CinemaScore gave the film a B+ grade on average.
However, time has been more kind to Taken 2. Fans of the film generally saw it as a good sequel and public reaction to the film has warmed over time. The concept of Kim saving Bryan was very well recieved.