Welcome to Taken Wiki
116 articles and growing
Taken Wiki is based around the films of the Taken film series. The Taken Wiki is a collaborative website dedicated to documenting the heroics of Bryan Mills and sharing information about one of the best thriller films in recent memory and the one that made Liam Neeson an action star. The film involved an ex-CIA operative who has to rescue his daughter, Kim, after she is kidnapped in France to be sold into prostitution. Taken was so successful that it spawned a sequel, Taken 2, which took place in Turkey and featured the vengeful fathers of the kidnappers Bryan killed getting his daughter back. Now it is up to Kim to save Bryan and his ex-wife, who have been taken this time. Taken 3 is in the works. This wiki will contain detailed information in article format of the film, Mills himself, his enemies, allies, merchandise, weapons, characters, locations, and other miscellaneous stuff that involved Bryan Mills. The great thing about the Wikia system is that anyone can edit this Wiki! This is a growing wiki and any help in detailing articles will not go unappreciated.
---

Characters:
Bryan Mills
Cast:
Liam Neeson
---

Characters:
Bryan Mills
Cast:
Liam Neeson
---

Characters:
Bryan Mills
Cast:
Liam Neeson
---
The latest film in the series is:
Taken 3
The film hit theaters on January 9, 2015.

It will be the final film in the series.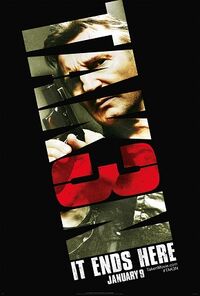 ---
If you're new to Wikia, please use the above links to get started. If you already have editing experience, and you have an article relating to the Taken create it! Spam or fanon articles will be deleted, however. Check out the community portal to see what the community is working on, to give feedback or just to say hi. We are currently editing 116 articles, and you can help!
What has been your favorite film so far?
Are you excited for Taken 3?